RaagShruti.com
Kishori Amonkar
---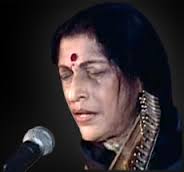 Kishori Amonkar is an Indian singer who performs in the classical genre khyal and the light classical genres thumri and bhajan. Amonkar trained under her mother, classical singer Mogubai Kurdikar of the Jaipur gharana (musical tradition of Jaipur), but experimented with a variety of vocal styles in her career. She is considered one of the preeminent representatives of Hindustani classical music.
Her voice has been described as piercing, hypnotic, mellifluous, full of painful melancholy, soul-searching, and as a beautiful amalgam of spirituality and worldly realism. Kishori's is, in fact, an emotionally expressive and musically correct voice, ideally suited to the contemporary acoustic environment governed by electronic amplification and sound processing.
Kishori has made a departure from the elitist repertoire typical of orthodox Jaipur-Atrauli vocalists. While she may occasionally perform a rare raga like Khem, or complex raga-s like Basanti-Kedar, Khat, Adana-Malhar and Sampoorna Malkauns, the core of her music revolves around common and mature raga-s, which provide vast scope for improvisation. Not surprisingly, her interpretation of even the commonest raga-s can often be controversial. In tune with current trends, she has adopted raga-s like Hansadhwani, imported from the Carnatic tradition. This departure attunes her khayal repertoire to contemporary audiences, and keeps her music accessible.