RaagShruti.com
Pt. Rasiklal Andharia
---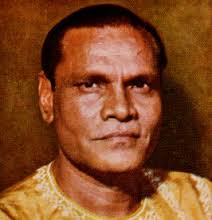 The late Pt. Rasiklal Andharia, born on 13.10.1931 came from a music-loving family from Bhavnagar, Gujarat. He was known for his rendition of the khayal of the Kirana gharana.
He was actively encouraged by his father in his musical pursuit and his elder brother, Pandit Babulal Andharia, a scholar-musician gave him the initial lessons in classical music. However, primarily, Rasiklalji, in the manner of a true artiste gifted with talent and genius, can be regarded as a self-taught musician.
Rasiklalji's music bore the impression of the gayaki of the late Ustad Amir Khan. His rich, sonorous voice had an uncanny emotional depth and enduring appeal - all of which often reminded the listener of the great Ustad.