RaagShruti.com
Ustad Rashid Khan
---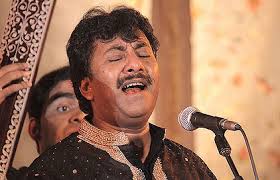 Ustad Rashid Khan (born 1 July 1966) is an Indian classical musician in the Hindustani music tradition. He belongs to the Rampur-Sahaswan gharana, and is the great-grandson of gharana founder Inayat Hussain Khan.
Ustad Rashid Khan has included the slow elaboration in his vilambit khayals in the manner of his maternal uncle and also developed exceptional expertise in the use of sargams and sargam taankari. He has also included the slower tempo vilambit. He is also extremely adept in producing all the other techniques and characteristic features of the Rampur Sahaswan style. His taankari is as powerful and varigeated as any of his predecessors and, in fact, among the best in the nation at the moment.
The brilliant Enayat Hussain drut and medium pace khayals ring as true in his voice as they have done down the ages. He is also a master of the tarana like his guru but sings them in his own manner, preferring the khayal style rather than the instrumental stroke-based style for which Nissar Hussain was famous. There is no imitiation of instrumental tone in them either. His vocal prowess is in the best tradition of the Rampur Sahaswan gharana. His mastery of all aspects tonal variations, dynamics and timbre adjustment leave very little to be desired in the realm of voice culture.